Tailoring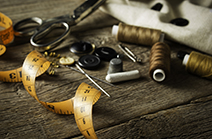 We specialize in in providing alterations services to our clients at a great price.
We'll rejuvenate those garments, one stitch at a time! Let us pick up your clothing that no longer fits or is in need of repair. We specialize in in providing alterations services to our clients at a great price. Why run all over town when you can get your cleaning and alterations done at the same place? With a quick turnaround time, we will make sure you look your best.
Whether you need a button replaced, your pants /skirt hemmed or taken out or a new zipper, you can rely on us to restore your garment so you can continue enjoying those items again.
Tailoring

How long does it take?

If you want to get things done as quickly as possible, call ahead for a better idea of a turnaround time.


Do I need to mark or pin my garments before I bring them in?

We will accept pinned garments. The best way to guarantee a great fit is to have your garments pinned.


What should I do if my alterations don't fit properly?

If there is a problem with your garment and it doesn't fit as expected, bring it back in. We will try our best to correct.
Shoe Repair
WashClub Laundry offers quality shoe repair and shine services alongside our professional dry cleaning and wash & fold service. This is not your ordinary shoe service. Our experienced professionals use the highest quality products. We Shine & Condition to get your shoes back in great looking condition. No dirty rags, no automated buffing machines or rush jobs.
Please note that our quality shines and repairs take time, so if you don't want the rest of your order to be delayed, please place your shoes in a bag. Boutique and designer shoes may have a higher cost.
Call us at (888) 970-9588 for more information. We hope to hear from you soon!